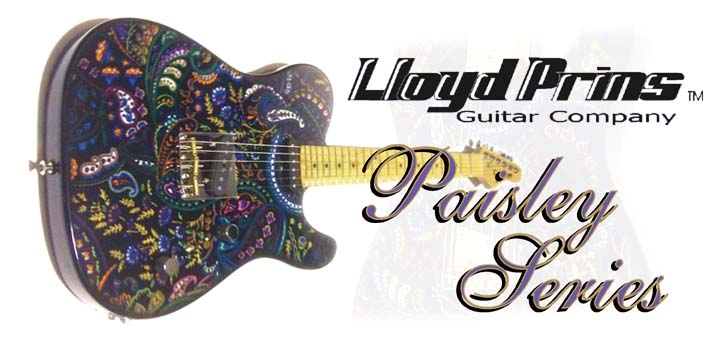 Many guitar builders have their version and methods of building a "Classic T" with Paisley finish. I put a little different spin on mine by using paisley fabric found at your local fabric store. I chose this method because 1) fabric seems to offer the greatest variety of paisley paterns and 2) the colors seem to be more vibrant on fabric than on other mediums.

Please give us a call to discuss building a Paisley for you. If you find a piece of fabric that you like better than what we've found, simply buy 2 yards and send it to us. We'll turn it into a great custom. Just make sure it's 100% cotton.
Below is a sample from our first batch of Paisley Guitars. These are Lloyd Prins model SDT with Paisley Finish. The SDT is not the same as our Twangcaster™ model as the SDT uses our Lloyd Prins standard headstock,has no pickguard, and has 22 jumbo frets.
[Please click on the image to see in high-resolution]
The two images below are Twangcaster™ models with Paisley Finish. The first is Twangcaster™ with Burgundy Paisley and the second is a Twangcaster™ with Bluesberry Paisley. This Bluesberry Twangcaster is a bit of a hybrid in that it has no pickguard and it is currently available at the Guitar House of Tulsa.
Lloyd Prins Guitar Company
6138 S. 39th West Avenue
Tulsa, Oklahoma 74132
(918) 446-5151
Copyright © 2016 the Lloyd Prins Guitar Company. All Rights Reserved.
Text and images are the property of Lloyd Prins Guitar Company
and may not be used without permission